Witajcie,

Dzisiaj pokażę Wam jak naprawić martwą (ucegloną) Sony Xperia SP C5303 oraz zaktualizować boot. Smartphone Sony Xperia SP C5303 może zamienić się w martwą cegiełkę jeśli uszkodzimy w nim boot, czyli część oprogramowania odpowiedzialną za komunikację z komputerem oraz włączanie / wyłączanie telefonu, czyli uruchamianie właściwego oprogramowania.

Uwaga: Jeśli Twój telefon jest martwy, ale posiadasz gwarancję - oddaj swój telefon do serwisu Sony, otrzymasz nowy sprawny telefon.

Jeśli jednak Twój telefon jest martwy, ale nie posiadasz już gwarancji i jesteś na tyle zdesperowany, aby samemu podjąć się naprawy tego urządzenia, ten poradnik jest dla Ciebie. Pamiętaj, że podczas tego procesu możesz jeszcze bardziej uszkodzić swój telefon, a wszystko to robisz na własną odpowiedzialność.

Objawy martwego "uceglonego" telefonu:
nie chce się włączyć po zmianie oprogramowania,
brak reakcji LCD oraz diody led na włącznik,
brak reakcji LCD oraz diody led na ładowarkę,
brak reakcji LCD oraz diody led po podłączeniu do komputera PC,
Twój komputer nie wykrywa telefonu, gdy go podłączasz z wciśniętym klawiszem vol-,
telefon nie reaguje, kiedy trzymasz klawisze vol+ i włącznik jednocześnie.
Procedura naprawy:

1. Najpierw podłącz martwą Xperię SP do komputera za pomocą kabla USB. Jeśli Twoje urządzenie zostanie wykryte jako:


qhusb_dload device

to masz szczęście i możesz odłączyć telefon od komputera. Jeśli Twój telefon nie został wykryty, musisz go rozebrać korzystając z pomocy tej instrukcji serwisowej: http://sony.yt/topic...kcja-serwisowa/ , odłączyć baterię i zlokalizować na płycie głównej testpoint. W tym celu za pomocą kabla do testpointu, spinacza do papieru lub cynowego drucika połącz po kolei złote punkty z GND (np. metalowym ekranem podzespołów) i podłącz kabel USB. Jeśli Twój telefon zostanie wykryty jako flash device - gratulacje - odnalazłeś testpoint! Zrób zdjęcie płyty głównej, zaznacz testpoint i podziel się zdjęciem testpointa w Xperii SP w tym temacie z innymi użytkownikami Sony.yt



2. Pobierz i zainstaluj najnowsze sterowniki Gordon's Gate Flash Driver z tego tematu:

ggsetup-3.0.0.7.exe 3.58MB 13197 downloads

3. Pobierz i uruchom program s1tool:

s1tool.exe 2.52MB 6943 downloads
4. Pobierz plik boot firmware przeznaczony dla Twojej Sony Xperia SP (wypakuj go z archiwum):

S1Boot_R11B023_HWID7E50E1.rar 320K 2105 downloads
5. W programie S1tool wybierz S1 EMERGENCY mode, naciśnij guzik Flash, wybierz plik boot firmware .sin_file_set dla Xperii SP pobrany z tego tematu,
6. Naciśnij guzik Testpoint READY: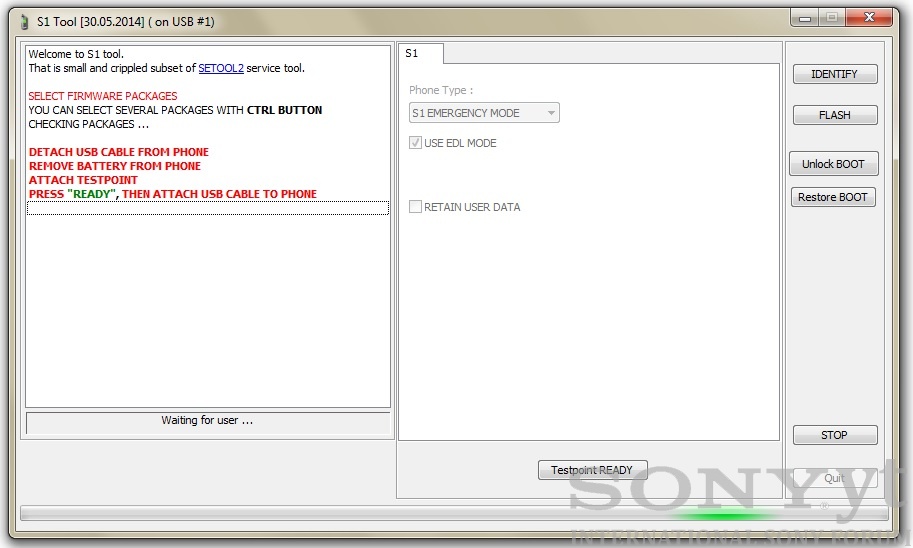 i jeśli Twój telefon jest wykrywany jako qhusb_dload device, podłącz kabel USB. Jeśli nie, połącz testpoint z GND i podłącz kabel USB.

7. Kiedy sterowniki zostaną zainstalowane i telefon zostanie wykryty, program poprosi aby odłączyć testpoint. Odłącz testpoint od GND i naciśnij guzik Testpoint READY.

8. S1tool zaktualizuje boot w Twoim telefonie.

Welcome to S1 tool.
That is small and crippled subset of SETOOL2 service tool.
 
SELECT FIRMWARE PACKAGES
YOU CAN SELECT SEVERAL PACKAGES WITH CTRL BUTTON
CHECKING PACKAGES ...
 
DETACH USB CABLE FROM PHONE
REMOVE BATTERY FROM PHONE
ATTACH TESTPOINT
PRESS "READY", THEN ATTACH USB CABLE TO PHONE
 
will use DLOAD protocol ... 
0808010600900000
0D0F50424C5F446C6F6164564552322E30
162001000100
17004001000100E1507E00
PRODUCT DETECTED: "SONY MSM8960-3 Pro OEM1 Fused"
1801000F43240892D02F0DC96313C81351B40FD5029ED98FF9EC7074DDAE8B05CDC8E1
PROCESSING ...
REMOVE TESTPOINT NOW, THEN PRESS "READY"
 
Emergency loader uploaded ...
 
RUNNING S1_PRELOADER VER "R5G008"
LOADER AID: 0001
DEVICE ID: 2078EB03
FLASH ID: "00FE/004E003F"
LOADER VERSION: "R5G008"
 
WRITING PACKAGES ...
Processing package
C:\Users\Administrator\Desktop\S1Boot_R11B023_HWID7E50E1.SIN_FILE_SET
 
Processing ACPU files
PROCESSING: boot.sin
no update files in package
FINISHED
Elapsed:29 secs.

9. Teraz musisz wgrać całe oprogramowanie przy pomocy np. Sony Update Service, Sony PC Companion lub innego programu do flashowania, takiego jak aktualna wersja programu Flashtool lub przy pomocy załączonego programu S1tool (wybierając tryb S1 FLASH MODE) i zaznaczając wszystkie pliki oprogramowania w kolejności: APPSW, FSP, ELABEL.

10. Gdy Twój telefon wrócił do świata żywych, pora go poskładać zgodnie ze wskazówkami Sony: http://sony.yt/topic...kcja-serwisowa/
Twój telefon powinien być naprawiony

Podziękowania: Ogromne podziękowania dla dewelopera the_laser za stworzenie tego fantastycznego programu i opublikowanie solucji



Pozdrawiam,

Jurij

Poradnik opracowany dla potrzeb forum Sony.yt - zabrania się jego kopiowania.